5.9 10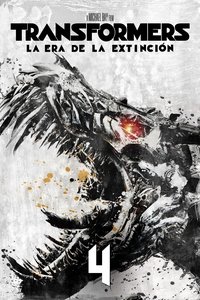 Transformers 4: La Era de la Extinción
Permanezcan juntos o enfrenten la extinción
A medida que la humanidad recoge las piezas, tras la conclusión de «Transformers: Dark of the Moon», los Autobots y los Decepticons han desaparecido de la faz del planeta.
Sin embargo, un grupo de científicos y hombres de negocios poderosos e ingeniosos intentan aprender de pasadas incursiones de Transformers y empujar los límites de la tecnología más allá de lo que pueden controlar, todo mientras una antigua y poderosa amenaza de Transformer establece a la Tierra en su cruz. Transformers: Age of Extinction.
Ver Colección de Transformers 4: La Era de la Extinción
Incluye los titulos: Transformers 5: El Ultimo Caballero,Transformers 4: La Era de la Extinción,Transformers 3: El Lado Oscuro de la Luna,Transformers 2: La Venganza de los Caídos,Transformers,Bumblebee.
Director
Reparto
Hay otros ocultos